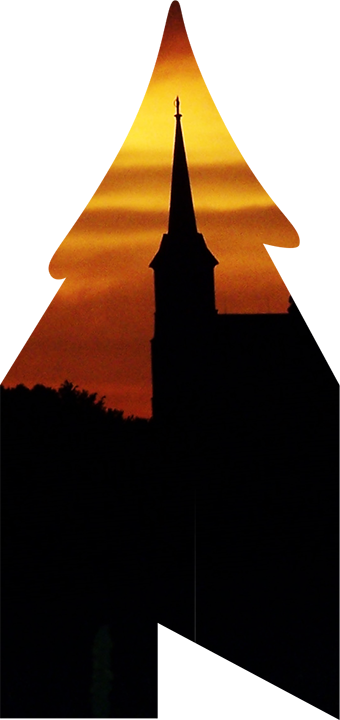 When God
Closes One Door,
On November 13, 2005, the church doors of St. Martin Catholic Church were closed to worship, but the vitality of the community within stood strong. A small group of former parish members formed a non-profit organization in an effort to purchase the property and save its 140+ years of heritage. The Green Bay Diocese deeded the property of St. Martin Heritage Park – Charlestown, Inc. on December 28, 2006. And the plan began and continues today to make
the property into a Park that welcomes all.
A Towering Steeple Reigns Over
Our Quiet Countryside
St. Martin Heritage Park invites both old and new friends to enjoy all it has to offer. Picnic tables and benches are scattered on the sunny lawn and under the shade of trees for convenient relaxation. The soft-spoken beauty of the native limestone rock and dancing butterflies accent the many gardens. Dozens of trees, a Martin (the Park mascot) birdhouse, flagpole, playground equipment, and more have been added in honor or in memory of special people in the lives of donors. Membership, rentals, grants, and other forms of giving sustain the Park's natural beauty.
Century-old Church Breathes
a New Life
Sitting high on a hilltop in Charlestown, Calumet County, the existing limestone church was erected in 1876 by ancestors of the community residents. Today with seating for 225, it offers a truly unique setting for weddings, community, family, or corporate events. Pictorial stained glass windows illuminate the interior, while a minimalist approach to decor leaves a clean palette for the imagination of any event planner. From the simply elegant to the perfectly simple affair, we can connect you with the right caterers, florists, photographers, and even ministers to complete your event. The Social Hall of St. Martin Heritage Park gives 3200 square feet of opportunity for indoor family fun or serious business. The facility, including a full kitchen, appliances, tables, chairs, serving ware, and big screen TV, is available to rent. Handicap-friendly, of course.
Our Mission Is Rooted in
Our Heritage
The friends of St. Martin Heritage Park, Charlestown, envision creating and maintaining an educational site preserving the heritage of the former St. Martin Parish and community. The site, rich in building and landscape architecture, will promote tranquil contemplation, energetic socialization, and mutual enjoyment of God's gifts to us all. For present generations – to be inherited by future generations.
The Heart & Soul of Our Community
Sitting high on a hilltop in Charlestown, Calumet County, the existing limestone church was erected in 1876. The board envisions the property to continue as a symbol of the spirit of the community. The founding and the current 7-member board of directors has members whose Charlestown homesteads have been recognized by the state of Wisconsin for their continued existence for 100, 140, and 150+ years. So their ancestors were among those that built the church with limestone from the Charlestown Quarry. Indeed, "heritage" is what St. Martin Heritage Park is all about.